Reimagining the city in the age of coronavirus
Edited by Zef Egan, Sarah Jane McIntyre, Emma Jane Geisler and Chris Kennedy
As cities around the world face unprecedented challenges, we are exploring a just and equitable response, and how new and progressive approaches to design, urban planning, city governance, climate justice and activism, as well as decision making can be reimagined. We feature articles, stories, media and artworks concerned with examples of participatory decision making, the role of climate and racial justice in the upcoming local and national elections, and the role design and science can and should play in imagining the future of cities. What is a resilient and equitable vision for cities post-Covid? How has COVID-19 changed organizing? How do we design for restorative justice, and build resilience to both climate extremes and future health crises?
By Andrea Marpillero-Colomina, Laura Castro, and Zef Egan
For this piece, Resilience editor Zef Egan was in conversation with Laura and Andrea about two of their favorite topics — democracy and classroom vibes.
By Andrea Marpillero-Colomina and Laura Castro
Andrea Marpillero-Colomina and Laura Castro explore the landscape and history of participatory governance and budgeting at municipal scales in New York City and Brazil. They discuss the PB mechanisms popularly used and how can serve as a tool for social justice.
By Andrea Marpillero-Colomina and Laura Castro
In November 2018, voters in New York approved the creation of a Civic Engagement Commission, charged with expanding participatory budgeting citywide to all fifty-one council districts and with developing civic engagement initiatives in collaboration with community-based organizations and civic leaders beyond the community board.
By Zef Egan, Zbigniew Grabowski and Veronica Olivotto
The current pandemic lays bare disparities in the precarity and quality of housing. Our ongoing analysis identifies strong relationships between housing precarity (defined as eviction rates, rent burden, and crowding) and vulnerability to Covid-19.
By Zef Egan, Zbigniew Grabowski, Timon McPhearson, Christopher Kennedy and Bianca Lopez
As people across the United States deal with the intersecting crises of racism and Covid-19, we need a clear strategy for addressing long standing issues of health disparities in cities.
By Yky
Photographer and artist Yky explores a post-COVID New York City through striking images that point to the realities of new social relations and issues of equity. Experimenting with photographic forms, the images showcase our shifting unease with human touch, and the vulnerability of the human body in a time of contagion.
By Kateryna Malaia
Architecture professor Kateryna Malaia discusses the shifting dynamics of homeless encampments in Portland, Oregon during COVID-19. Malaia discusses the complexity of urban planning and housing policies, and architectural forms produced in part by the pandemic.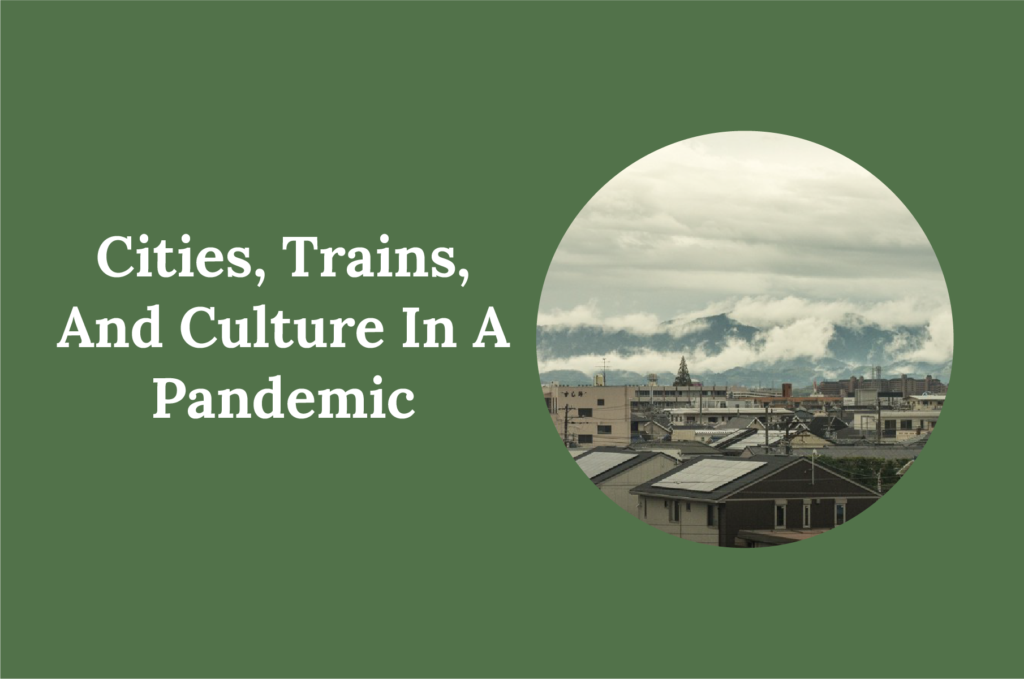 By Patrick M. Lydon
A detailed account of one family's journey from their home in Osaka, Japan, to the suburbs north of Busan, the large port city at the very southern tip of the Korean peninsula. Author Patrick M. Lydon details their travel during the height of the Covid-19 pandemic through compelling imagery and narrative.
By Debra Anderson Mcgrory
USL Faculty Fellow Debra Anderson McGrory has been working with USL fellows Claudia Tomateo and Pablo Herreros Cantis on a research project exploring data sonification for representing social vulnerability to COVID-19 in NYC. The video below provides an animated, sonified geospatial data visualization of COVID-19 impact by neighborhood in New York City.
By Johanna Hoffman
Johanna Hoffman, founder of Shiftworks using interactive storytelling to present a speculative future of urban life in 50 years, asking the question, what if cities embraced aspects of the circular economy, an economic system aimed at eliminating waste and the continual re-use of resources?
By Zoe Banzon, Sudeepti Rachakonda, Raissa Xie, and Darcy Keester
This article explores the particular challenges and impact of COVID-19 on vulnerable and aging populations in cities like New York, and identifies holistic approaches to improving cities by addressing concerns about mental well-being, access, agency, and physical safety.
By Zef Egan, Claudia Tomateo, Karim Ahmed, Veronica Olivotto
This hurricane season twelve hurricanes and tropical storms have made landfall in the United States. Eight of these battered the gulf coast. A record breaking five storms barreled over Louisiana. Climate change has made hyperactive hurricane seasons the new normal. Recent years cluster near the top of that list. 2020 shattered all records with weeks left in the season.